Long waiting until their time comes. The problem was, I knew how to taste, I ate many times the original and very afraid of disappointment. Recipe I found except from a year ago, waited and waited. My husband begged, loitering, he likes, that such a delicious, that I bake it all they want, and I do not want for him… So in the end I felt confident and did. Developed specifically as, to make the birthday gift fo my husband. And guess what it turned out? That pretzel is not as difficult as it sounds. Let there be no, boast that the, I will not say it, that came out like I imagined, and how outputs should:). Crispy shell and soft center. Ideal. I encourage you to try and recommend!
The recipe comes from this site.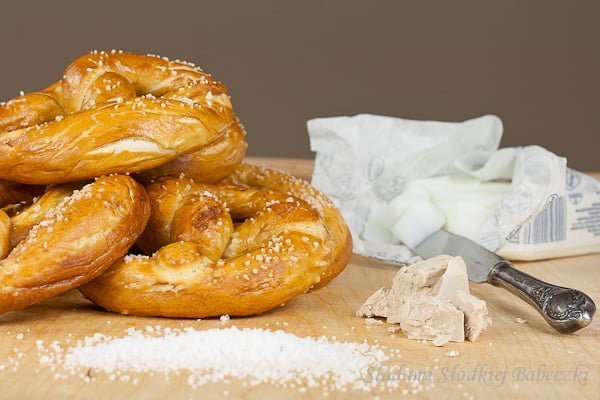 Ingredients for the dough:
500g flour
42g of fresh yeast (I gave 30g)
20g lard (Remove from the refrigerator a while before, softened to)
250ml of warm water
16g of baking powder (I first met with the yeast and powder at a time, So I gave only a teaspoon)
2 teaspoon salt
1 teaspoon of sugar
Additionally:
40g of baking soda dissolved in 150 ml water
1 egg for brushing pretzels
In a bowl sift flour with baking powder. Make a hole, Pour the crushed yeast and sugar, Pour half the water and fill up a small amount of flour so, in order to create consistency of thick cream. Allow to stand for 10 minutes, when he begins to pour more water grows up, add salt and soft lard and mix smooth, the dough. Set aside, covered to double in volume (ok with me. 45 minutes). After this time the dough has risen (punch, to escape the air) and briefly to form.
Divide the dough in 10 equal parts. From every part of the shaft to form a length of 30 -40 cm in diameter. Shaft should be in the middle of a thicker, thinner and its ends. Shape into pretzels.
In a saucepan boil 1.8 liters of water with sodium hydroxide solution. Put into boiling water pretzels. Remove after 30 seconds and put on a baking tray lined with baking paper. Ready pretzels spread beaten egg, sprinkle with coarse salt (who or what he likes).
Bake at 220 ° C for 15 – 20 minutes (baked 17 minutes). To be more crispy crust, at the bottom of the oven, you can place the dish with boiling water ( I forgot, but they were crispy).
Enjoy!
If you wish to receive notification for each new entry, use the menu Notifications