Trdelnik, trdlo, kurtoskolacz – tyle nazw na jeden wspaniały przysmak. Znacie? Sprzedawany jest często na różnego rodzaju festynach i jarmarkach. Pochodzi ze Słowacji, z miasta Skalnica. Jest to rodzaj drożdżowego ciasta owijanego wokół drewnianego kija, a następnie grilowanego. Po upieczeniu posypuje się je z reguły cukrem wymieszanym z cynamonem. Można też posmarować nutellą i posypać orzechami, migdałami lub wiórkami kokosowymi.
Paweł z Zuzią zawsze wyrywają sobie kawałki tego pysznego ciasta, i wiecznie jest awantura, who ate more 🙂 And I must add, że Zuzia nie przepada ani za drożdżowymi wypiekami, ani za cynamonem. Do tej pory zawsze kupowaliśmy trdelnik, ale teraz, gdy stałam się szczęśliwą posiadaczką urządzenia ułatwiającego wypiek tych pyszności (dziękuję Mężusiu!!), w końcu mogłam upiec je sama w domu. Od razu dodam, uprzedzając Wasze pytania, że jest możliwość upieczenia trdelnika bez tych specjalnych rurek. Trzeba jedynie samemu wykonać sobie takie rurki np. z rolek po ręczniku papierowym lub wykorzystać wałek do ciasta.
Przepis na trdelnik dołączony był do foremek i wykorzystałam go nie zmieniając w nim nic. Jest wg. mnie idealny! Ciasto z wierzchu jest chrupiące, and soft in the middle, czyli dokładnie takie, jak ma być. Po prostu doskonałe!
I recommend you very much! A jeśli ktoś nie miał okazji jeszcze tego przysmaku próbować, to tym bardziej powinien go upiec! 🙂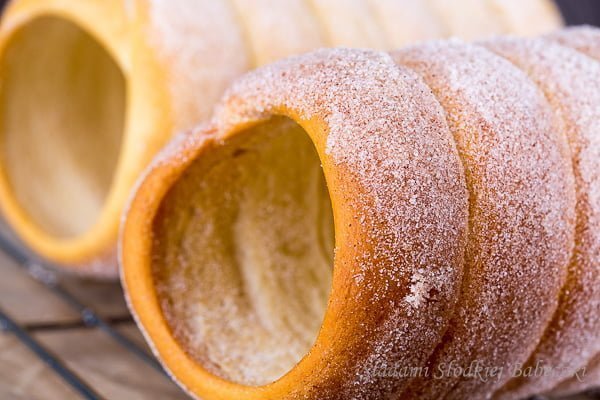 Recipe for 4 Art:
280g of wheat flour
150ml of lukewarm milk
35g butter
35g lard
15g of icing sugar
13g of fresh yeast
3 yolk
pinch of salt

Additionally:
trochę masła do stopienia (nie zważyłam, ale powinno wystarczyć 80g)
100g caster sugar
1 teaspoon of cinnamon
packaging with real vanilla sugar
Masło i smalec należy wyjąć z lodówki wcześniej, aby zmiękły i nadawały się do ubicia.
Sift flour into a bowl, make a hole in it, Pour the crushed yeast, sugar and pour over warm (not hot!) milk. Overwhelm a small amount of flour so, to form a consistency of thick cream (picture of what's going on). Odstawić w temperaturze pokojowej na 10-15 minutes, aż zaczyn podrośnie. Po tym czasie ubić masło ze smalcem i żółtkami na jasną, fluffy. Następnie dodać do zaczynu, dodać szczyptę soli i wyrobić gładkie, the dough. Ciasto jest tłuste, ale dobrze wyrobione nie klei się i ładnie się formuje. Gotowe ciasto przykryć ściereczką i odstawić na około 1 godzinę do wyrośnięcia (powinno podwoić swoją objętość, czas wyrastania zależy od temperatury w domu). After this time, remove the dough from the bowl, lekko wyrobi i podzielić na 4 of.
Z każdej części uformować wałeczek długości około 120-130 cm in diameter, następnie nawinąć na wałek tak, aby połączyły się ze sobą. Końcówki ciasta założyć pod spód. Nawinięte wałeczki należy teraz "roll' several times, aby je spłaszczyć. Posmarować ciasto roztopionym masłem i odstawić na 15 minutes to rise.
Bake at 200 ° C for about 20 – 25 minutes. W tym czasie należy dwukrotnie obrócić ciasto o 1/3, aby się zarumieniło równomiernie z każdej strony. After this time, remove from the oven, jeszcze ciepłe posmarować masłem i obtoczyć w mieszance cukrów i cynamonu. Ciasto zdjąć z rurek.
Ciasto jest najlepsze ciepłe.
Enjoy!