I noticed, that this cake is quite popular recently in various forums and blogs, culinary. I forgot about him, But once, long ago, I ate them at my mother in law. And I really like it. Enough, I took that recipe. A long time it did not, So I decided to recall.
Very easy to make and the effect – as the best pastry shop!
Ingredients:
2 packages of salty crackers (the best are by. me "Lajkonik")
3 glass of milk [250ml]
3 yolk
3 heaped tablespoons of flour
3 heaped tablespoons of potato flour
1 vanilla sugar
1,5 glass of sugar
1 glass of coconut (250ml)
50g white chocolate, grated on the coarse mesh
1 margarine or butter (I added butter)
Whip egg yolks with 1/2 cup of sugar and sugar wanilinowym. In a glass of milk to distribute wheat flour and potato. Combine with beaten egg yolk.
The rest of the milk to boil with the remaining sugar. The milk is boiling pour in the egg and cook stirring pudding, would not singe the lumps and did not.
Into the cooled custard (must be cold) Add soft butter and mix and fluffy. Finally, stir in the grated coconut pulp, leaving little to sprinkle top of cake.
The bottom plates of the lower dimensions of 28x22cm put crackers, It put 1/3 mass and cover with crackers puddings. They have created 3 layer. The top of dough sprinkled with grated coconut and white chocolate.
The dough aside in the refrigerator for several hours and preferably overnight.
Best of the day, the crackers soften.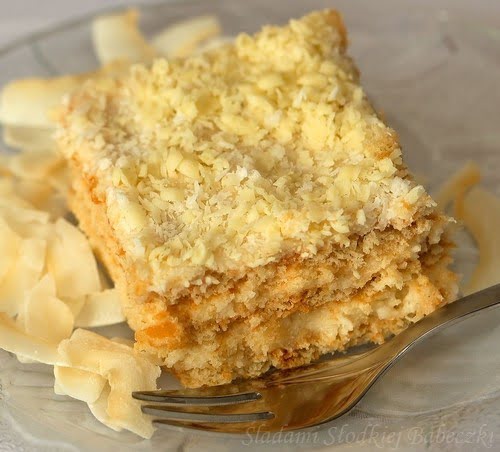 Enjoy!