My dear!
I would like to invite you to participate in a competition organized by friendly portal iLunch. He is young but very rapidly growing and extremely interesting portal, that seeks to promote the idea of ​​healthy eating. You'll find many interesting articles on topics of nutrition, but not only:) Tips dieticians, dermatologists, beauticians, forum, rules… These are just some of the advantages of the portal iLunch. But the main activity of the portal is to enable rapid order food according to your preferences, tastes and diets. I invite you to a broader look at the portal:)
And now, already mentioned competition, where you can win fantastic prizes.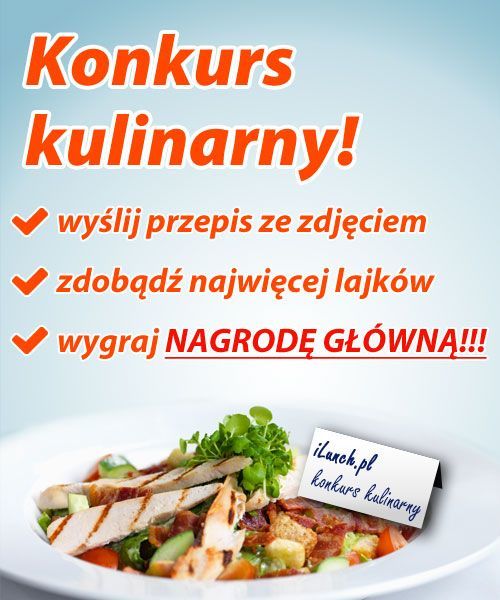 iLunch guided by the idea of ​​healthy food!
Please send in photo rules on any chosen topic:
1) starter diet
2) dietary meal
3) dietetic dessert
Competition rules:
Send us a photo (which must be given a card with the inscription "iLunch – Culinary Competition!") along with the recipe for your dish to the address: konkurs@ilunch.pl in the title : Culinary Competition.
Awards:
1. A set of seven knives and knife stand Fiskars - for the person, which receives the largest number of "Lobi" in a photo gallery of the competition
2. A set consisting of two blades Fiskars - for the person, the picture and recipe will be selected by the Team iLunch, based on subjective judgments.
3. 4. and 5. ROLESKI set consisting of five elements, drawn at random will receive a product with another person the most
"I like it" in the gallery competition.
The duration of the competition:
of hours 12:00 18.11.2011 - For hours 12:00 25.11.2011
After a detailed contest rules page to invite organizer.
Once again we invite you to participate in the contest and wish you all have fun! Awards are great, I know what I'm saying:)
Good luck!
If you wish to receive notification for each new entry, use the menu Notifications