So, in order to, it's high time to get on with doing the gingerbread house. The dough should be cool about aging 5 – 6 week. After baking, it should be a little lie, well to skruszało. Last year I did this gingerbread, not knowing it until the end, what to expect, but I assure you, it, what came, more than exceeded my expectations. This is certainly the best brownie, I ate. My family was of the same opinion, and this year it also ordered the. The recipe is probably known to many of you, I filled it to the network. I personally benefited from the Dorotuś. I recommend a very!
The pictures show the last pieces of gingerbread from last year. After baking this year, update my photos.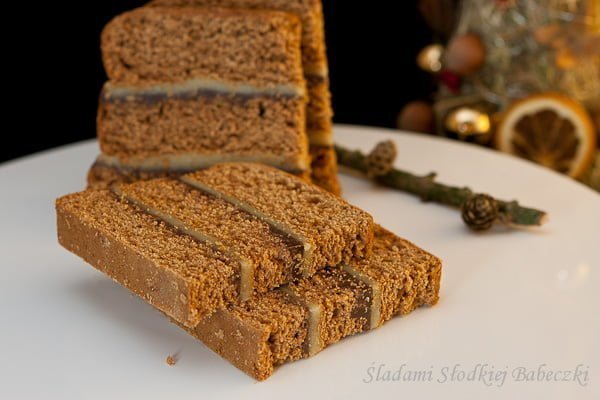 Ingredients 3 tops (You can do two and even a whole lot of gingerbread):
a pound of honey
1,5 glass of sugar (gave brown)
250g butter
1kg of wheat flour
3 eggs
3 level teaspoons of baking soda
half glass of milk
half a teaspoon of salt
2 – 3 gingerbread spice bag (I gave 3 bags of 20g each, Kamis company, because that suits me the most)
Strongly heated honey, sugar and butter and mix thoroughly. Set aside to cool.
Soda dissolved in the milk with all the remaining ingredients added to the mass with cold. Knead the dough. Ready into a bowl or pot ( if someone has, stoneware dish is best). Cover with a cloth and leave in a cool place 5-6 week (for me it was a garage, refrigerator can be). The dough can be quite loose and sticky, but this is to be. After this time, it thickens and is unfit for rolling.
The dough should be baked about 6-7 days before Christmas.
Cake – baking:
Remove finished cake, divided into 2 or 3 of (I recommend, however, 3, I come to you with two very high). Roll out to a thickness of about. 0,5cm in diameter. If necessary, lightly floured podsypywać.
Preheat the oven to 170 ° C. Bake for every board separately, in the lamina 30x40cm, lined with baking paper for about 20 minutes. Cool tops after baking.
Cooled down to translate tops of cooked plum jam. Finished dough evenly covered with paper and load the rack. Set aside in a cool place to crush. Before giving you brownie or pour sauce polukrować. I am in the last year, in addition to jam, He shifted the weight of gingerbread and chocolate marzipan. It came out great.
Enjoy!
If you wish to receive notification for each new entry, use the menu Notifications